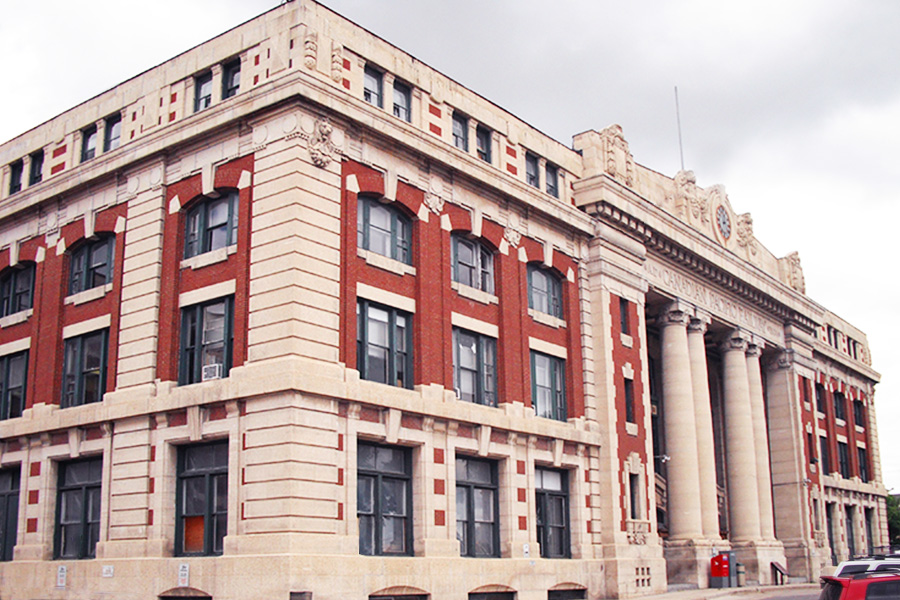 Exterior of Building
    The CPR station is designed in the Beaux-Arts style, used for public and commercial structures from 1900-1920.  Called grand and theatrical, the style created massive, ornate facades symbolizing dignity and stability.  This station represents once of the earliest examples of the style in Canada.  It is the design of brothers William S. and Maxwell of Montreal.  The Maxwell firm was well-known across Canada and also designed the Legislative Building in Regina, Saskatchewan (1912).
    The structure is built of Wisconsin red brick and accented with Tyndall stone from Garson, Manitoba.  This use of two toned building material is one of the most unique features of the CPR station as later Beaux-Arts structures tended to utilize a monochromatic scheme.
    The most dominant feature of the exterior is the main entrance, nearly 17 metres (55 feet) across.  Here two parts of monumental stone columns rise 12.2 metres (40 feet) from their gigantic stone bases.  Originally, the space above the columns held carved stone panels, a large clock and the words "Canadian Pacific Railway, 1904".  The north of track side facade entrance way is similarly designed and ornamented.
    Alterations to the exterior have been numerous over time, although they have not seriously changed the visual beauty of the station.  The most drastic change came in 1971 with the highly publicized demolition of the Royal Alexandria Hotel and the nearby Immigration Hall. This significantly changed the original context of the station however, the craftsmanship and lavish detailing of the depot remain intact.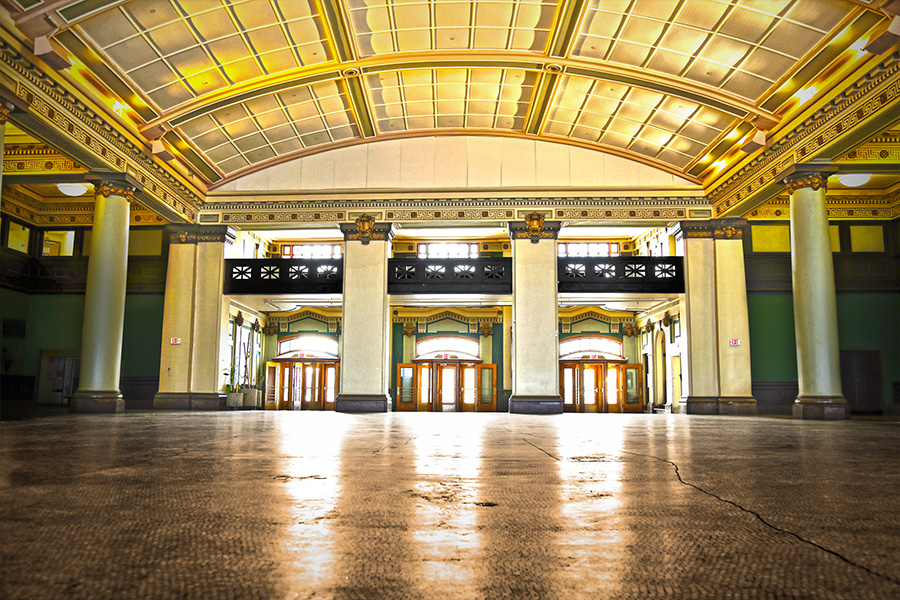 Interior of Building
    Like the exterior, the design and finish of the interior public space was meant to impress.  The entrance vestibule opened into a massive main waiting room with large columns, a three-story high ceiling and a curved glass roof with over 200 electrical ceiling lights.  The space, which measures 29.3 x 31.4 metres (96 x 103 feet), included soft, green coloured walls with paintings of the CPR line through the Rocky Mountains.  The heads of the columns and other ornamental features were painted in bronze.
    The white marble terrazzo flooring was comprised of 2.5 centimetre (1 inch) thick tiles, 1.3 centimetres (1/2 inch) square.  It took a 30-man crew over six weeks to lay the tiles by hand in cement and once laid, large stones were push across it to plane and polish the surface.
    Off the main waiting room was a ladies' waiting room (southwest corner) and a men's smoking room (southeast corner).  Along the west side of the waiting area was the baggage check and ticker counter, a news stand and the telephone and telegraph offices.  The kitchen and lunchroom were located east of the waiting room.  The CPR designed the interior of the Higgins Avenue station to separate the passengers – first class customers using the main floor space, and second class travelers using a separate entrance to access waiting room and lunch facilities located in the basement.